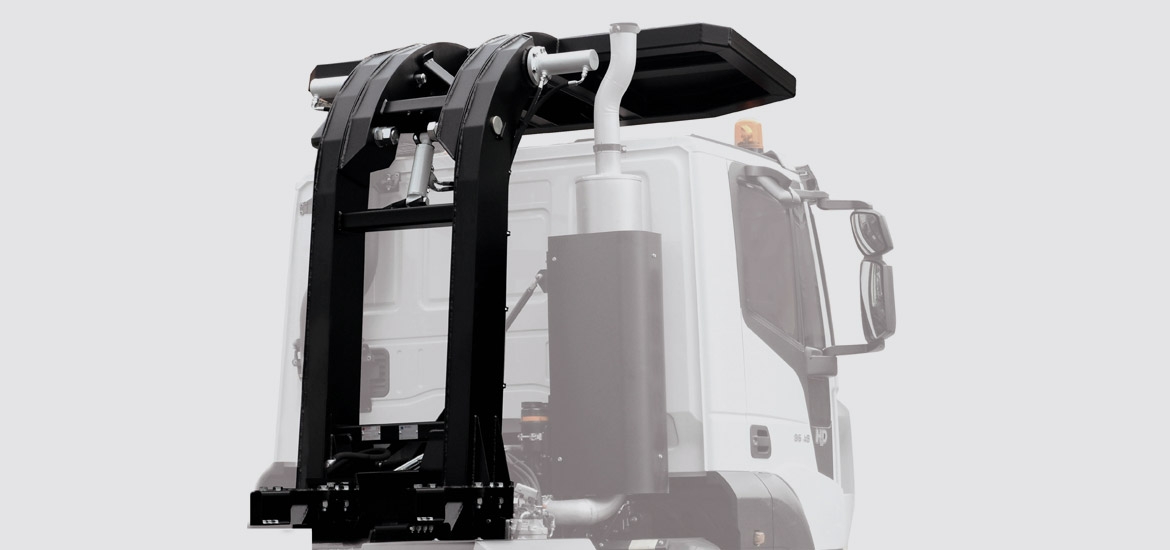 DEFENDER ROPS&FOPS
(Safety OVER THE TOP!)
Protection structure for Roll-Over and Falling Objects (ROPS-FOPS rules).

Our DEFENDER structure is completely independent from the cab of the vehicle or any other equipment and it is fixed directly on the chassis of the vehicle. DEFENDER is compatible with cabs made according to ECE R29 (this regulation does not allow modifications on the cab, unless it is approved again with homologation tests).

Technical information

Weight of structure DEFENDER: 600 Kg.
Weight of component for fixing at the chassis: 380 Kg.
Maximum weight of the dump truck: 17000 Kg.
This mass, defined by ISO 3471:
- Includes: weight of the vehicle, weight of the ROPS protection and weight of auxiliary chassis;
- Does not include: weight of the tipper and everything contained in it.
Protection level of FOPS: LEVEL II.
If required, we can create a structure for vehicle with a weight greater than 17000 Kg.
Documents
Declaration of conformity EC showing the identifying data of the examination EC certificate. The European directive 2006/42/EC on machinery requires the useof protection structures certificated by a technical report of the single structure without EC declaration and EC conformity with customized weight and dimensions (without info of the prototype).
Rotation of the roof-protection
It is possible to rotate the Defender structure by an easy manual operation, in case of work on the vehicle engine or cabin.
Certifications
Industrial invention patented with nc 000013.
Approved according EN ISO 3471:2008 and EN ISO 3449:2009 rules.
Technical info
Protection structure - ROPS & FOPS international rule
Shotblasting – Enamel paint
High performance steel
Manual opening system of the top
GVW 18 (Short Cab) – 63 ton.