PF SEMIROCCIA REINFORCED Square Shape
(Rear tipper)
This model belongs to the rear tippers group with frontal cylinder.
The PF SEMIROCCIA REINFORCED belongs to the same family of the SEMIROCCIA tippers. The difference is the special reinforced structure with increased thickness of the steel used to produce the frame side members, the brackets under the bodyfloor and the perimeter uprights on the boards, that make it particularly suitable for heavy duties. Furthermore, the antiabrasion steel thickness of the bodyfloor (10 mm) and of the boards (8 mm) are increased compared to the PF SEMIROCCIA version. The cylinder is hinged at the two ends with spherical joints, which grant it a long lifetime and do not force it, in case of discharging materials on a rough ground, to work bending. The high stability during the tipping operations that this body can ensure, can be improved with our "historical" optional "Stabilizing-Bar", which has always marked our tipper as per guarantee of reliability and stability also in precarious tipping conditions.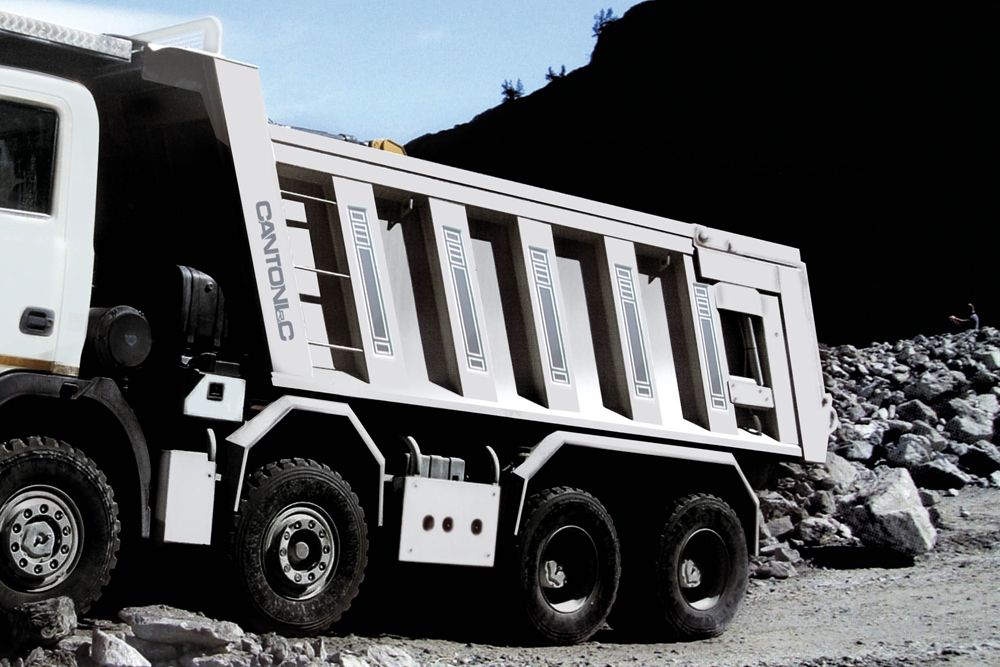 Standard features
Square tipper-body
Frontal telescopic cylinder with chromium first extension
Bodyfloor in antiabrasion steel HB450, thickness 10 mm
Fixed sideboards in antiabrasion steel HB400, thickness 8 mm
Special reinforced structure for heavy duties
Frontboard with roof cab-protection
Reargate with automatic unhooking device (mechanical)
Pneumatic lifting control
Pneumatic lowering control by modulating system P.T.O. and pump included
Spare-wheel holder with mechanical winch, between cab and tipper
Zinc-plated tool box, with key
Strong steel rear mudguards Safety pole
Lateral protections Lateral lights
Rear reflective panels
Rear reflective marker strips
CE Quality and Safety standards with "Use and Maintenance" handbook
Painting process:
- Shotblasting
- Polyacrylic primer
- Polyacrylic enamel paint
- Painting in cab colour with grey decostripes
Technical info
Rear square tipper
Shotblasting - Enamel painting
Bodyfloor & boards in antiabrasion steel
Frontal telescopic cylinder
GVW 33 - 40 - 50 ton.